Note-Worthy: How I Got Started in Music and How I Discovered Music Therapy.
Hi! My name is Kylie. I am a Registered Psychotherapist, Certified Music Therapist and I own Kadence Music Therapy.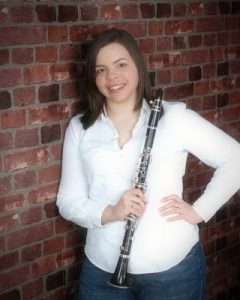 I am a very proud Northern Ontarian but I started playing and loving music while my family was living in the United States in a city called Hopkins, Minnesota, located west of Minneapolis, MN. I started playing the clarinet in the elementary school band in Grade 5. This started a lifetime involvement in music. I continued with school bands as my family moved down to Grand Prairie, Texas, located between Dallas and Fort Worth, Texas where I participated in Middle School and High School including one season of Marching Band with a Bass Clarinet during a Texas High School Football Season. – True Friday Night Lights. And eventually, my parents moved my family back to Canada to here, Greater Sudbury, Ontario! I continued with the High School/ Secondary School concert band at Lasalle Secondary School for three years (Grades 10, 11, and 12) and finished Secondary School.
Those moves contributed to my current career path. When my family and I lived in Minneapolis, my mother, a Registered Nurse, worked with a Music Therapist. She described the work of a Music Therapist to me and it simply stuck with me. Fast-forward to my later years of Secondary School, I was reviewing University degrees to apply to and I came across the Bachelor of Music Therapy program at the University of Windsor. At the time, I was at a crossroads because at the time I wanted to be a Medical Doctor but decided against that career choice. I felt that a future in Music Therapy was a great combination of working in Health Care/Social Services and my established passion for music.
Fun Fact: On this day, June 14, in 2012 I graduated with my Bachelor's of Music Therapy at the University of Windsor.
Following Secondary School, I was accepted to the Bachelor's of Music Therapy program at the University of Windsor and graduated in 2012 after completing a year internship here in Sudbury! After the internship, I completed the necessary steps to become a Certified Music Therapist by the Canadian Association of Music Therapists (CAMT) in 2013 and I was grandfathered into one of the latest provincial regulatory colleges; the College of Registered Psychotherapists of Ontario in 2015. I am currently the only Certified Music Therapist practicing in the City of Greater Sudbury.

I frequently asked the question: "What is music therapy?" I work under the following definition as a Certified Music Therapist with the CAMT:
Music therapy is a discipline in which Certified Music Therapists (MTAs) use music purposefully within therapeutic relationships to support development, health, and well-being. Music therapists use music safely and ethically to address human needs within cognitive, communicative, emotional, musical, physical, social, and spiritual domains.
Canadian Association of Music Therapists
September 2020 – www.musictherapy.ca
For any Health Care Professional, it is important to make sure your Health Care Professionals have completed the necessary steps to be a safe and effective professional and this includes Music therapists. Professional music therapists must be Certified Music Therapists and have completed the following steps I have outlined and completed. Look or ask for the MTA or MTA/MT-BC credentials when considering music therapy. I will be providing future blogs about music therapy and provide examples of safe music therapy. If you have individual questions, please fill in a contact form or call Kadence Music Therapy for more information at any time.
Email: [email protected]m
---